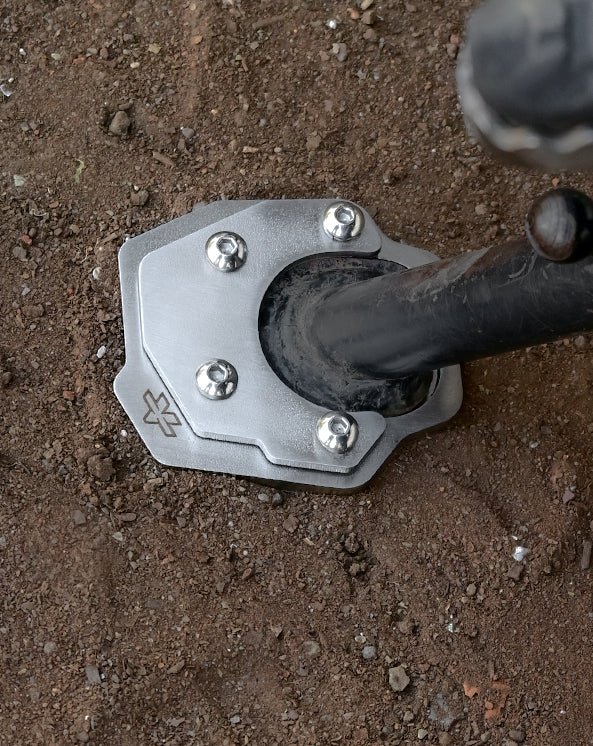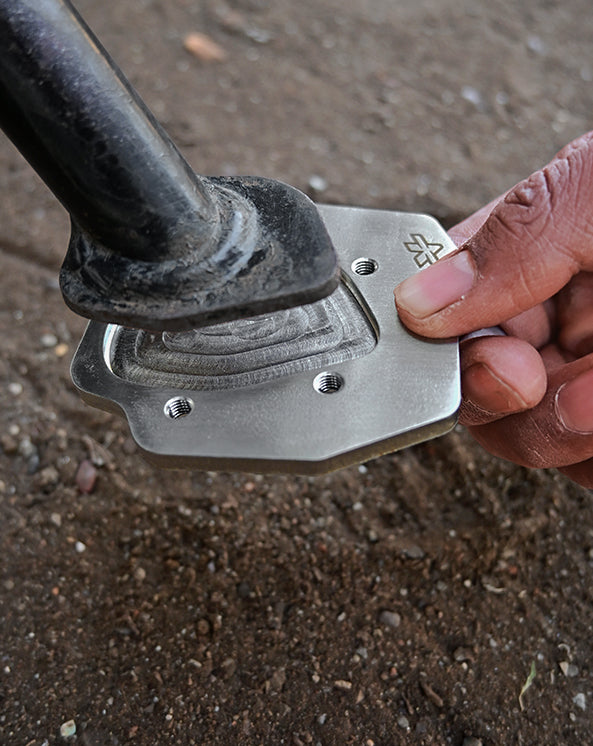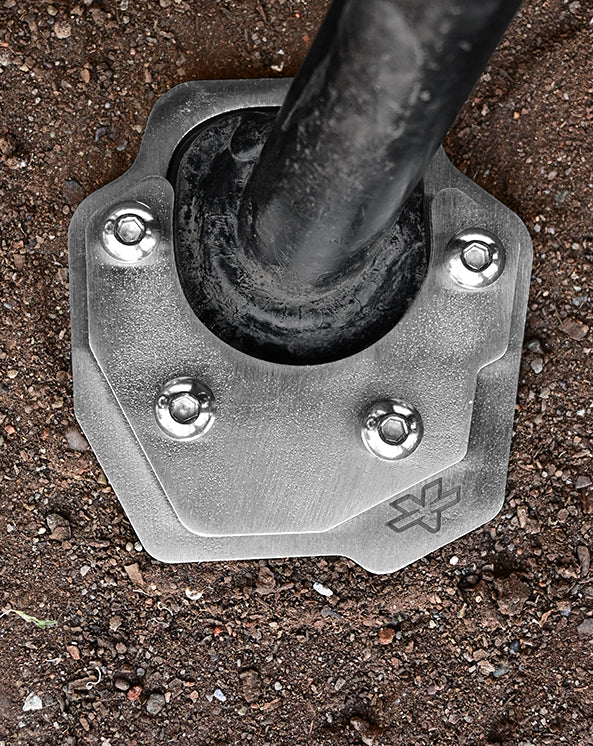 ×
Extended footprint area
The increased footprint area of 2.3 times the original OEM stand size offers superior balance and support, ensuring that your motorcycle stays stable while parked.
×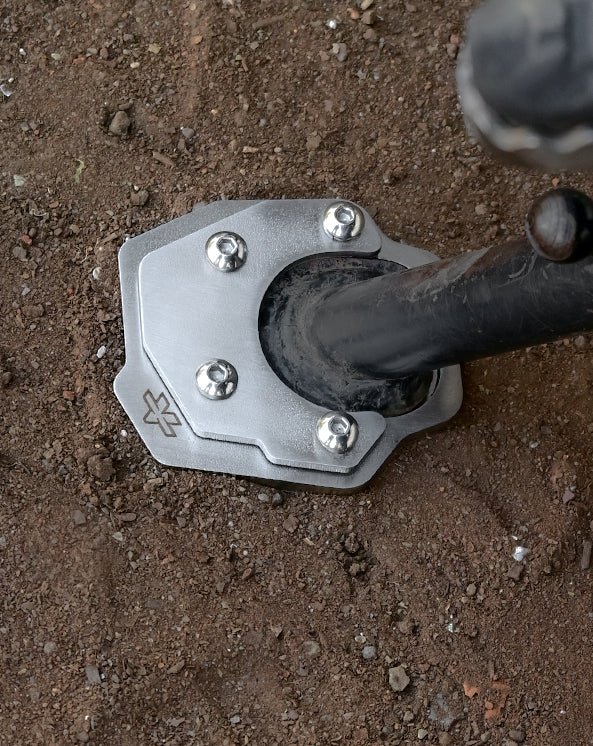 Better weight distribution
Optimal weight distribution on the large footprint area enhances stability of the bike on soft surfaces such as gravel, sand, or mud. This is particularly useful for riders who frequently encounter such surfaces while touring or exploring new trails.
×
Specially designed to work on uneven surfaces
Our sidestand shoe features a unique design with a notch on the top plate that ensures a firm grip even on the uneven surface of the OEM side stand.
×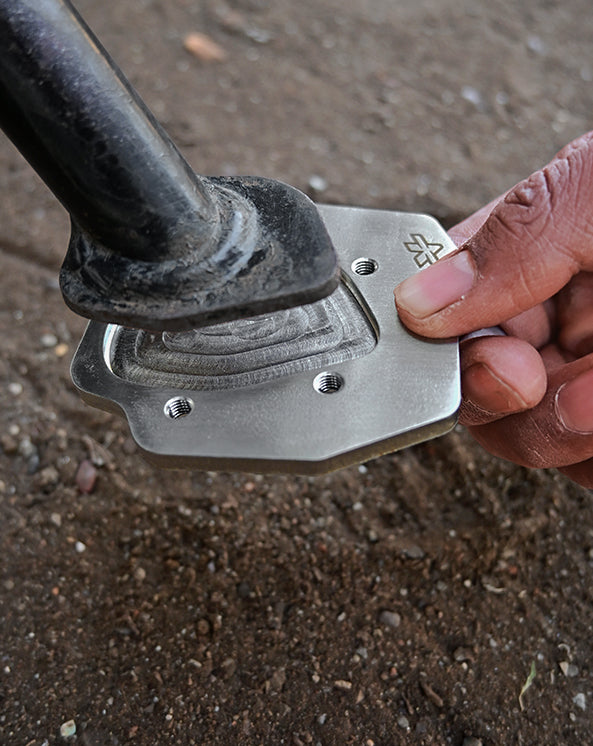 Optimal Ergonomics
The unique design of our sidestand shoe includes a cavity on the bottom plate that ensures the bike is lifted only 2mm off the ground. This ensures the stance of the bike with the sidestand is not affected even after the fitment.
×
Strong clamping of shoe
The use of stainless steel in the construction of our sidestand shoe allows for the fasteners to be torqued to a higher rating, providing a secure and firm installation. The stainless steel material also ensures that the shoe is rust-resistant and durable, making it a long-lasting and reliable accessory for your motorcycle.
×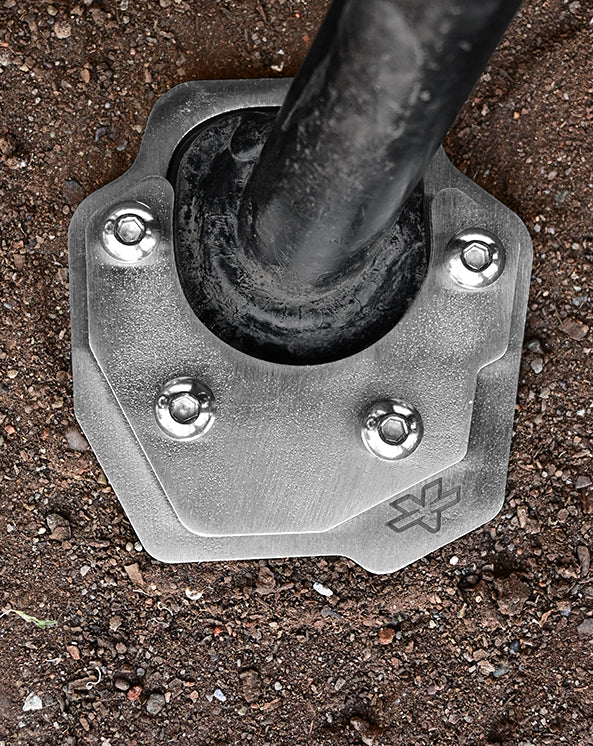 Longer thread life
Our sidestand shoe is made with a combination of stainless steel plate and stainless steel screws, which ensures zero corrosion. This is a significant advantage over other sidestand shoes that are made with aluminum plate and steel screws, which can cause galvanic corrosion. This corrosion can weaken the fasteners over time and cause the shoe to become loose or fall off, compromising the stability and safety of your motorcycle.
×
Premium build and finish
Our sidestand shoe is built with the highest grade industrial materials and processes, ensuring maximum durability and performance. The shoe is made from stainless steel, which provides rust-resistance and durability. The precision laser cut and CNC machined components ensure a perfect fit for your motorcycle, and the buffed finish gives it a sleek and stylish look. The attention to detail and quality in the manufacturing process ensures that the shoe is not only functional but also visually appealing.
×
Precision & Consistency
We use precision laser cutting and CNC machining to ensure that the shoe is made with the highest level of accuracy, making sure that every piece is consistent and of the highest quality.
× Includes all components needed for installation
Our sidestand shoe comes with all the components required for installation, making it easy and convenient to install. The package includes high-strength stainless steel bolts with SS washers, a 3mm Allen key, and a 0.5ml pack of Loctite 243 threadlocker.
× × × × × Built to last:
All shoe parts are made in SAE 304 stainless steel for high wear & corrosion resistance
Loctite thread locker and spring washer are provided to keep the screw from coming loose on its own.
Stainless steel fittings for long life
Functional:
Increases footprint area by 2.3 times. Weight distribution on large footprint area enhances stability of bike on soft surfaces.
Original materials:
Laser cut from SAE 304 stainless steel
CNC machined
Buffed matte finish
Laser engraved branding
Taparia 3mm Allen key included
High strength stainless steel bolts with SS washers included
Loctite Thread locker included
RETURNS
If our product does not meet your needs, our 3-day return policy gives you the option of returning items you have purchased from us. Please click on the Returns policy and choose the relevant category for more details.
EXCHANGE
If you want to exchange the product(s), you can pick any item(s) for an equivalent amount or pay the difference for a higher priced item. Please write to us on salesteam@viaterra.in for further details on the same.
WARRANTY
We provide a 6 months warranty against defects in materials or craftsmanship if purchased directly from us or from an authorized dealer. For hard parts, minor scratches, nicks and anodizing marks which occur during regular manufacturing process are not covered under warranty. Please click on Warranty policy and choose the relevant category for further details.
LIFETIME REPAIR SUPPORT
We believe in extending the life of our products so that we use lesser natural resources and you get more bang for your buck. Degradation depends on environmental factors including exposure to moisture, sunlight/UV etc. If you need a part replaced or changed, please send us an email and we will help as best as we can. Please write to us on salesteam@viaterra.in for further details on the same.