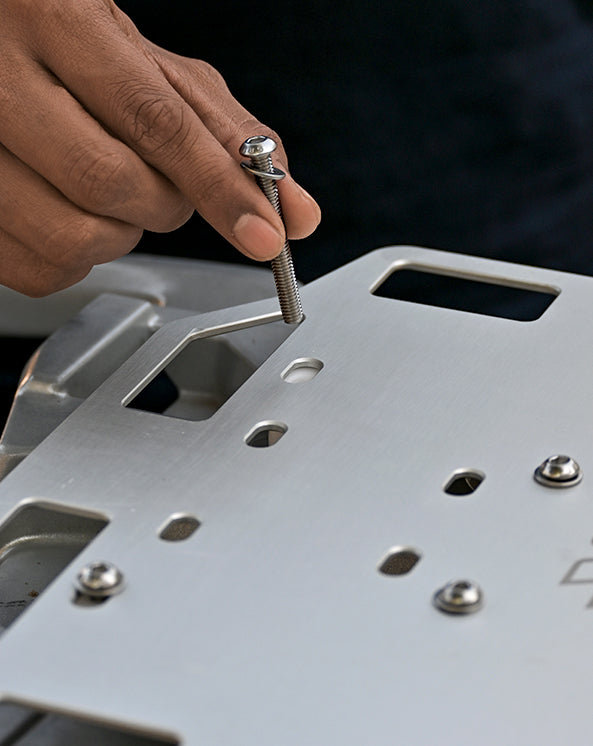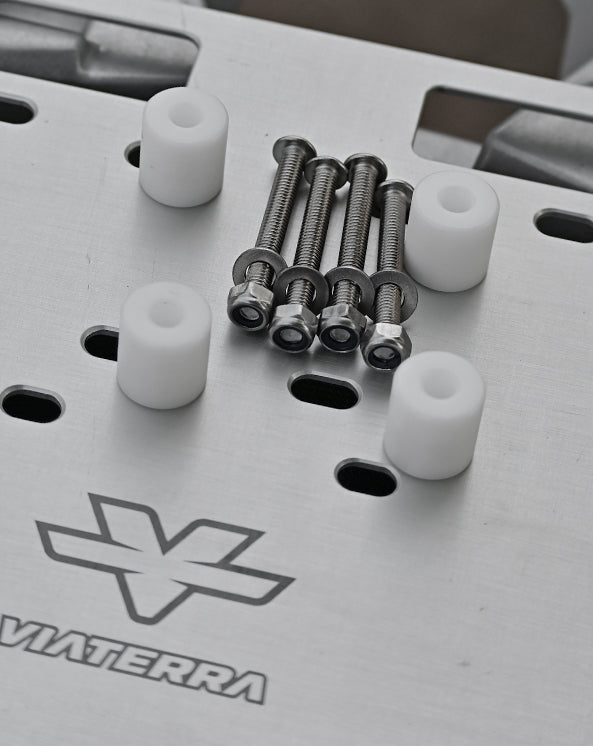 ×
Large surface area
The BMW G310 GS Rear Rack offers a large and sturdy surface area, perfect for carrying a balanced load of your belongings on your adventures. Whether you're planning a long trip or a weekend getaway, this rack provides the necessary space and support to ensure your cargo is securely and safely transported.
×
Light weight
The Rear Rack is crafted with tempered aircraft grade aluminum alloy, making it one of the lightest and strongest racks on the market. At only 0.43 kg, it will not add significant weight to your motorcycle, allowing you to maintain optimal performance and maneuverability.
×
Pillion Friendly
Designed to ensure adequate clearance between the rack and the pillion seat, ensuring a comfortable ride for your passenger. This means that you can carry your luggage without sacrificing the comfort of your passenger.
×
Wide slots for easy use
It features large, strategically placed slots that allow you to pass through the webbing and buckles for mounting luggage on the rear rack. This feature makes it easy to secure your bags and other belongings on the rack, ensuring a safe and stable ride.
×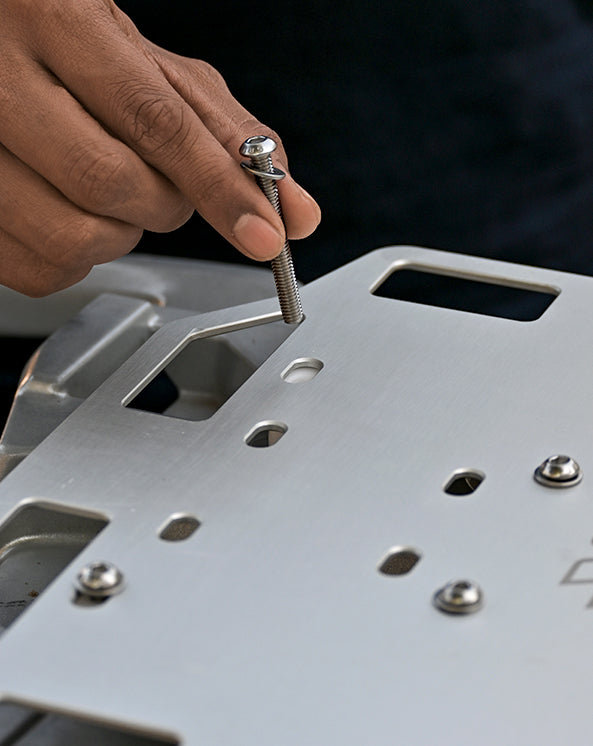 Adjustable slots
To help ensure the fitting is symmetric while allowing for a balanced weight distribution. The adjustable slots allow for the rack to be mounted in a way that both sides are equally supported and positioned, ensuring a stable and secure ride. This feature ensures that the weight of the luggage is distributed evenly, preventing any potential handling issues or safety hazards.
×
Precision & Consistency
The BMW GS310 Rear Rack is CNC machined for improved strength and overall consistency. This means that each piece of the rack is manufactured using computer numerical control (CNC) machines, which ensures that each piece is exactly the same as the others. This process results in a more precise and accurate production, resulting in a stronger and more durable product. The CNC machining also ensures that the rack is symmetric and allows for a balanced weight distribution while carrying a load.
×
Premium build and finish
Built with the highest grade industrial materials and processes, it is crafted with aircraft grade tempered aluminum alloy, which is known for its strength and durability. This material ensures that the rack is lightweight yet capable of handling a substantial load. To enhance its durability, the rack is also hard anodized. Hard anodization is a process that adds a thick, hard layer of oxide to the surface of the aluminum, making it more resistant to wear and tear, corrosion, and impact.
×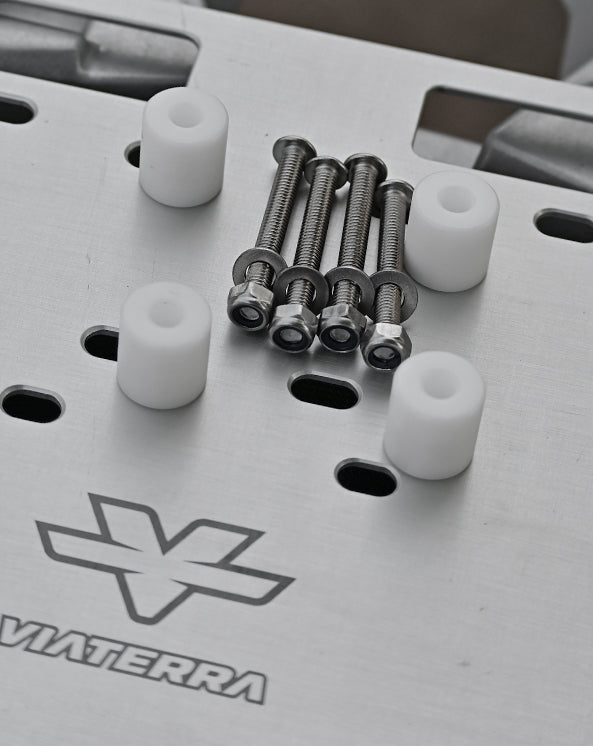 Includes all components needed for installation
Comes with all the necessary components required for installation. The components include high strength bolts, washers, polymer spacers, and nyloc SS nuts. These high-quality hardware components are designed to provide a secure and stable fit for the rack. The polymer spacers are included to ensure that the rack is positioned at the correct distance from the bike, while the nyloc SS nuts are used to lock the bolts in place, ensuring that the rack remains securely attached to the motorcycle.
× × × × × Built to last:
Aircraft grade tempered 6000 series Aluminium alloy
Hard Anodized for improved wear & corrosion resistance
CNC Machined for high accuracy
High-strength SS fasteners
High-strength polymer spacer for vibration damping
Functional:
Very lightweight with high bending resistance
Large surface area provides proper support to bag
Wide slots for easy passing of buckles/webbing
Compatible with the ViaTerra POD 12 & POD 22
RETURNS
If our product does not meet your needs, our 3-day return policy gives you the option of returning items you have purchased from us. Please click on the Returns policy and choose the relevant category for more details.
EXCHANGE
If you want to exchange the product(s), you can pick any item(s) for an equivalent amount or pay the difference for a higher priced item. Please write to us on salesteam@viaterra.in for further details on the same.
WARRANTY
We provide a 6 months warranty against defects in materials or craftsmanship if purchased directly from us or from an authorized dealer. For hard parts, minor scratches, nicks and anodizing marks which occur during regular manufacturing process are not covered under warranty. Please click on Warranty policy and choose the relevant category for further details.
LIFETIME REPAIR SUPPORT
We believe in extending the life of our products so that we use lesser natural resources and you get more bang for your buck. Degradation depends on environmental factors including exposure to moisture, sunlight/UV etc. If you need a part replaced or changed, please send us an email and we will help as best as we can. Please write to us on salesteam@viaterra.in for further details on the same.
BMW G310 GS Aluminium Rear Rack
Best fit product for one who doesn't like a top box fitted. Now by fixing this rack, it has given me extra space and a even surface for my 75L backpack to be tied down without any disturbance to the pillion rider. Works perfectly to place my daily commute bag as well!